On October 31, I'll be playing the most important Disc Golf Tournament I've ever played,
The Hope Open
. The tournament will benefit the American Cancer Society and the money raised will help to give HOPE to those afflicted by this horrible disease. Sometimes, HOPE is all we have! My wife and I have both registered and we have purchased a Tee Sign in memory of those lost to Cancer and those that have survived.
[IMG]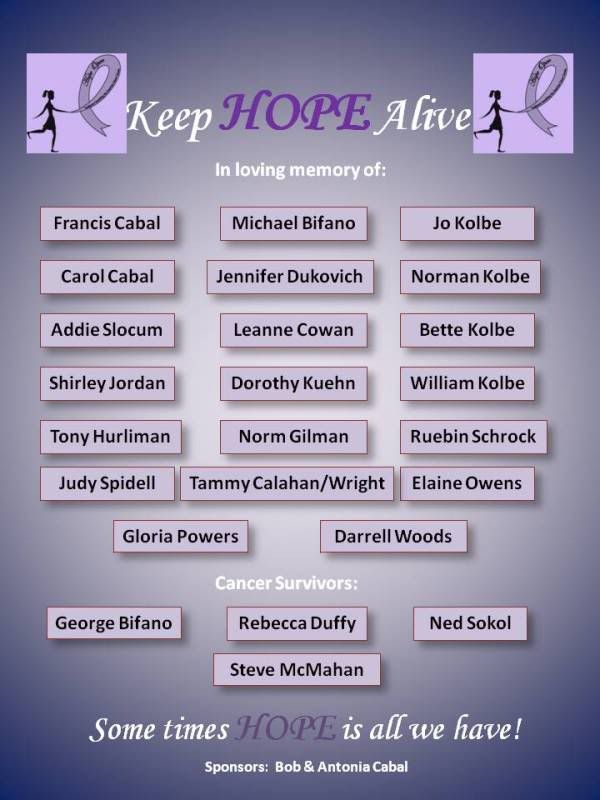 [/IMG]
In the early 70's Norm Gilman, a good friend, was diagnosed with cancer and told that with treatment his life could be extended by 6-9 months. With no HOPE, Norm chose to not have the treatment and within a few weeks died from cancer.
In the late 80's my father was diagnosed with cancer and told that with a new procedure, whereby surgically implanting a pump into his body to administer chemotherapy that there was a chance, some HOPE that the cancerous cells could be killed and he MAY live. A year later I sat by his bedside, holding his hand as he was given shots of Morphine to kill pain in the final days of his life. The experimental treatment did not work but there was HOPE however small.
This past year my wifes Grandfather, Michael Bifano, was diagnosed with cancer and although in his 90's had great HOPE that he could beat the disease. Two days before his passing this past Spring, he was on the phone with his Doctor letting him know that he had just read about a new treatment that showed great promise and it might be something they could look into. There was HOPE like never before.
Also this past Spring and Summer, my wifes Stepfather and Father were diagnosed with Prostate Cancer, had surgery, and are both Cancer free.
There is HOPE!
We, the Disc Golf community, have an opportunity here to help to give HOPE to others and make a difference in the world. A lot is said of Disc Golf/Golfers and the perception of the sport. We have an opportunity to make that perception a possitive one and show that the Disc Golf community cares about our fellow man and are willing to help to give HOPE to those that sometimes have nothing more than HOPE to keep them going.
If you can sign up and play in this event...DO IT! If you can't play but maybe can purchase a Tee Sign of your own.......DO IT!
I am also accepting sponsorships/pledges to play in this event. (think bike-a-thon/walk-a-thon) Give what you can, no amount is too small. Sponsor me by the hole ($1x36) or a flat donation of whatever you can give. Did you know that a donation as small as $1 is tax deductible? If you would like to help, shoot me a pm and I'll respond with a mailing address or figure out a meeting place.
PLEASE.............
Some times

HOPE

is all we have!
Thank you for reading,
Bob