All these discs and more available to buy online at:
www.beaverstatefling.com
I have some discs for sale if you want to meet up and save on shipping. Notice the cool state logo in the beaver...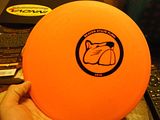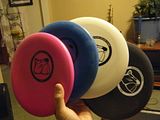 From left to right: R-Pro Wood ROC, KC Pro ROC (Orange), KC Aviar STIFF (Yellow, Orange), JK Aviar GUMMY (Purple, Blue, White, 1 Black) ONE BLACK JK AVIAR
$15 each. Support the Beaver State Fling!