Sadly i am in need of funding to fix my ride so i can continue to look for work and to pay on some bill's. i am putting these up here 1st. i know i can get more money on ebay and will go there if needed...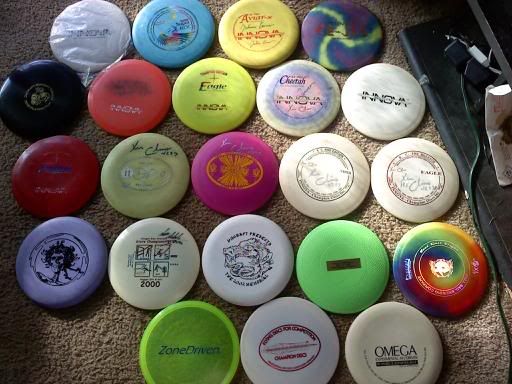 So the Black 1 is a 2005 MidnightZ Buzz from Players Cup,the Red 1 directly below it is a 172 CE FL 8/9 out of 10,the Orangish/Pink is a 172 Eagle 8/9 out 10 the Yellow 1 is a 2nd run E with flashing still on it 9 out of 10 the Aviar-X is a 3X signed by JK,Cheetah is a 10X signed by Cam after he threw it 1 time then kicked it it still has a scuff mark from his boot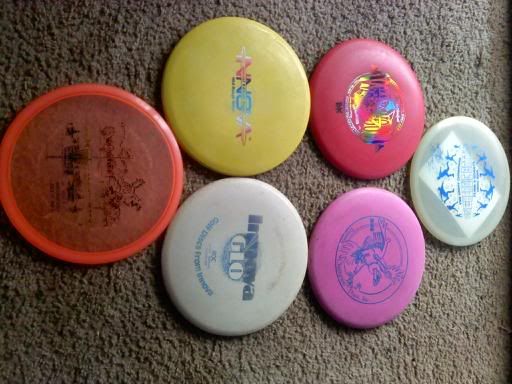 The Battle Roc is #552 180 G with Barry's Sig but not Ken's it has only been out of the bag to be signed.
Red 1 is a Real Ontario 150 2 minor nicks in it and some ink
BubbleGum is a 172 Sanny about 7/8
Glow is Real Ontario 177 6/7
Yellow is a 1st run Super Roc 179 with ink and 90% flashing still on the disc
Orange is a 180 G hole #5 2004 USDGC Roc Mint with sticker on it
any1 have any questions or interest i can send other pics of indiv. if needed
Thanx for looking and be sure to let your friends know.
i am not looking for ebay prices, but please lets not try to buttrape me to bad......
i am trying to avoid OUTRAGEOUS EBAY Fee's...