The Beaver State Fling Golden Ticket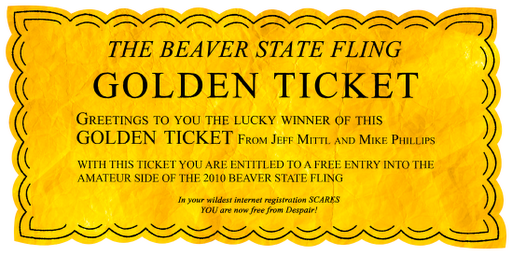 What is it: Amateur 2010 Beaver State Fling Automatic Entry Raffle
Cost: $1 per ticket
Drawing: March 14th, You do not need to be present to win
Purchase from: Bob Cabal, Mike Phillips, Jeff Mittl, Kel Carver, Patrick Darr, Carl Thorne & Kent Smothers
Since last years amazing registration rates created such havoc for would be amateur competitors we have decided to raffle off a free entry into the Amateur side of the Beaver State Fling 2010. We will be announcing a winner on March 14th 2010 before registration opens. You do not need to be present to win, and you will be the first amateur into the event. No online worries for you!
Tickets will be available January 24th at the Stumptown Winter Slosh as well as other local events in the coming months.
Tickets may also be purchased online at Stumptown Store in blocks of 5, 10, 15, 20, 25 or 50 tickets.
http://www.stumptowndiscgolf.org/store/bsf_raffle
Any questions please contact
Jeff Mittl
jmittl@gmail.com
or
Mike Phillips
flash_25296@yahoo.com