I'd been meaning to play this course ever since I heard it was getting put in, but had never gotten around to it until this year. The Sunday after the Fernburner, we decided to give this course a whirl. It's pay to play of course, but totally, totally worth it. Also totally worth it: a friggin' cart! I think it's $12 per round to rent a cart, and on top of the fun of being able to drive a cart with discs in the back, this place has some serious hills. You could walk it if you wanted, but unless you're a masochist, you'll be much happier with a cart.
As you could expect with a ball golf course, the holes are mostly open, but they've made good use of the trees and elevation to provide good challenging golf shots. It was also laid out well in that we didn't seem to be interfering with the ball golfers.
Great views were to be had, but like the five bumbling dummkopfs we were, none of us thought to bring a camera or even our phones along. Luckily, one of the employees, Sean, wasn't doing much of anything else and so followed us around snapping some pictures along the way. Here's a few of them:
Me putting at the elevated pin on Hole 1:
The group eyeing down Hole 3 (it looks a lot higher from the tee!):
Curt M. putting on Hole 7: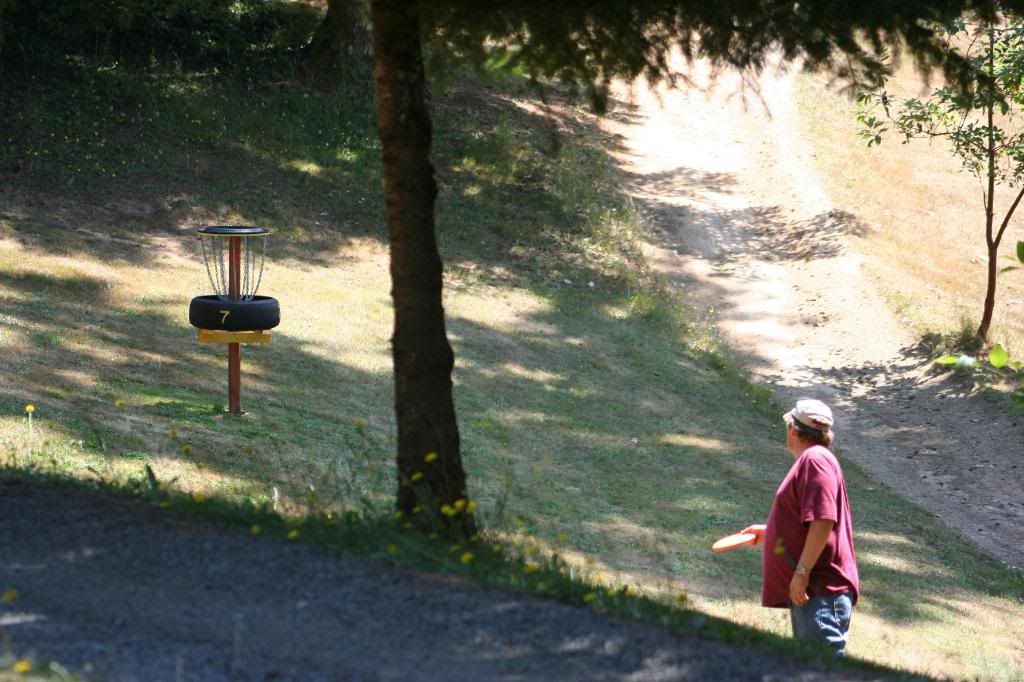 Chuck driving Hole 9:
Chuck taking a particularly aggressive putt
:
Aaron T. driving on Hole 11. It's not a hard hole, but definitely the most memorable one. Just damn cool.: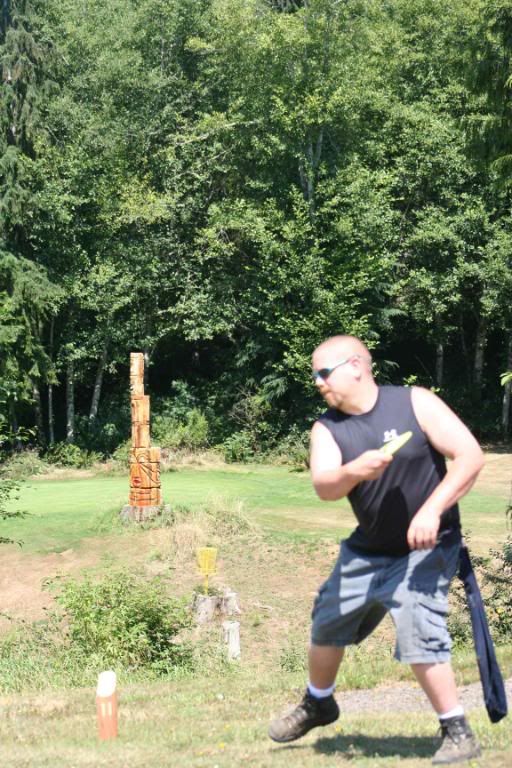 I know it's out of the way and all, but play Skyline and the Mud, and you've got a fantastic day of disc golf. Or better yet, stay at Lucky Mud and make a weekend out of it!
Oh yeah, about halfway through our round, Lowell Shields caught up to us, playing solo with his wife Chris caddying. Still hot from his play at the 'Burner, also playing the course for the first time, he shot a -9, which I do believe was a new course record.