For the longest time, we've needed a kiosk at Terrace, and this weekend, it finally came to fruition. Those that attended the Terror Creek 666 Doubles last year may recall that that was a fundraiser tournament, with the primary goal being to get a kiosk in the ground. Well, it took a little longer than planned, but your contributions did not go to waste! Thanks to Evan T., Eric M., and Aaron T., we got our butts in gear and got this thing built. It still has some finishing touches to be done yet, but it's
mostly
there. We tried to make it all nice and aesthetic, but the priority here was durability (knowing our local thriving population of disaffected youth), and I think it's safe to say this thing is built to "brick shithouse" code. Big thanks to Evan and Eric who did the brunt of the carpentry, and an extra thanks to Evan for donating a good amount of the materials used. And of course, thanks to all who participated in the Terror Creek doubles and purchased fundraiser discs...this is your kiosk! And even better news, the kiosk came in significantly under budget, so the leftover funds will be put towards further improvements to the course!
Work in progress (note the supervisory seat):
Pontification (fortunately, this was an unsanctioned event):
Taking shape (is that Sasquatch lurking in the background?):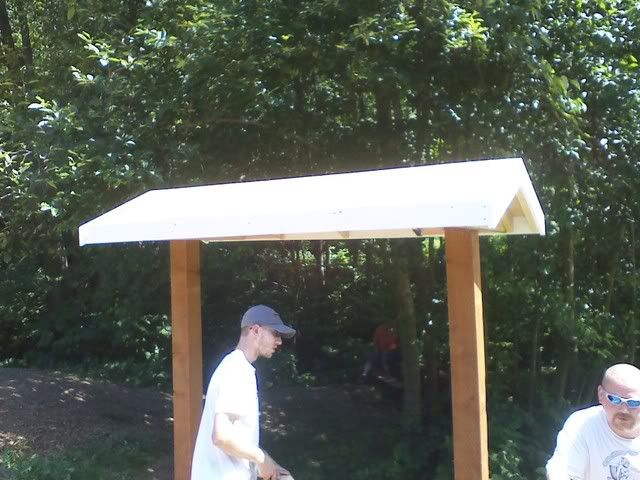 Aaron doing a fine job of keeping the kiosk upright: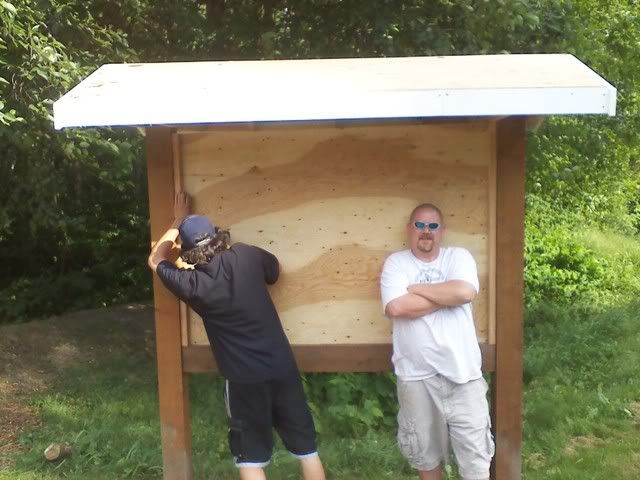 Future pic from the eagerly anticipated disc golf pinup calendar: Evan, yours truly, Eric, and Aaron:
Hey, look, a Seahawks hat! Oh, and Evan doing some roofing: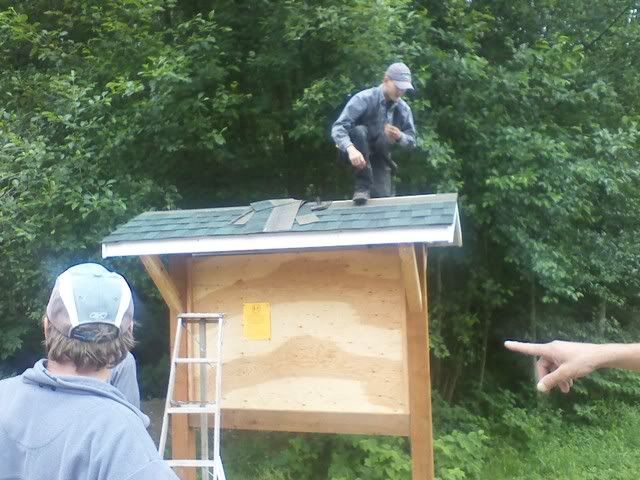 The (mostly) finished product:
And gone, but not forgotten, our old "kiosk"
: