I spent a couple of hours stomping all over the park yesterday, and took decent notes about what I saw. Here are my developing impressions about the potential course:
Area 1 on the map is mostly unusable. I wish it weren't so, but that is one huge gully full of underbrush that only a controlled burn would remove. There is a nice strip of lawn/trees on the westernmost side. It could be one huge hole (~600), or a couple of smaller ones, but it is completely disconnected from the rest of the park, the good areas that I will talk about in a sec.
Area 2 is a lawn area that should be a home for a practice basket towards the north. At the south end is a playground and the current sad parking area. To the north is the high point of the park, with an awesome view of downtown, the mountains, etc. This would be an ideal place to start off the course, with tee 1 out in the open, launching southeast into area 3 to engage the woodsy enemy right off the bat. This could be advantageous in that a shelter/staging/tourney central area could easily be incorporated into the developing plans for the southeast portion of the reservoir renovation in progress. This means it would be paid for by the city and give their project just the little dash of disc golf that is all it really needs.
Area 3 is a little smaller than 4, but 3+4 = 2*Awesome (Eqn. 1). This is the meat and potatoes right here. It's really messy with knee-high ground cover, but the trees, ooh the lovely trees. One particular highlight was at the far east border of 3 and 4, where looking south from the entrance trail you see 3 trees in a line. One tree has 3 major trunks, the next two, and the next is a single trunk. It looks like the trees are counting down the launch of your Destroyer. Bad pic, but you can see the trees I mean: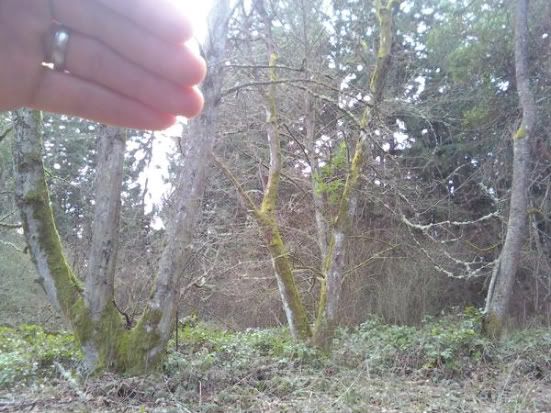 T-minus 3,2,1, liftoff. This teeing spot allows for a hole in line with the countdown that shoots up the path, but an even better hole shooting southwest between trees 2 and 3 that has par-4 monogrammed on its underwear.
The main problem with using only 3 and 4 is that they are not ginormous plots of land. This will give us another 18-hole par-54 course, perhaps a par-4 sprinkled in here and there. Any amount of more golf is good golf, but I share Andrew's desire for a champion-level course with epic possibilities. This is where area 5 comes into play.
Area 5 is the least-used portion of the park, and for not unreasonable reasons. 2/3s of that area is one rather large slope, and steep to boot. The underbrush is wild and unruly. However, there are a few areas with ego-ruining hole possibilities. I can easily imagine a back-back 9 with some par-4/5 holes that circles the fenced water tower thingies. This would be a ton of work, but it could very well be worth it. I envision tournaments where the regular 27-hole layout (9 on area 3, 9 on 4, and 9 on 5) is temporarily reconfigured for one brutal par-72 18-hole WIDOWMAKER.
Theorem (1) can now be defined as such:
If 3+4 = 2*Awesome, then 3+4+5
allows for infinite ass-kicking
.
Can anybody find evidence that falsifies Theorem 1?